Cheap Used Cars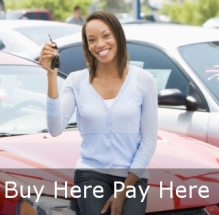 Cheap used cars for sale in Louisville KY
Cheap used cars for sale in Louisville KY aren't that hard to find.
But are you looking for a cheap used car, or are you looking for a competitively low priced car that's in good condition and you can get good service out of?

Like most used car dealers, we always have a few lower priced units on our lot that we've taken on trade. They make fine starter cars for young people, or are often bought as "work cars".

It's been our expereince that most people inquiring about "cheap cars" are doing so because they think they can't be financed on a nicer car. That's a problem we're used to seeing here at Okolona Motors, and a lot of our customers that come in to look at a cheap car are surprised to see that we can get them financed on something nicer.

When purchasing a car and having it financed, it's important to like the car! It makes writing the check for the monthly payment a lot less painful when we're writing the check for something that we like, and enjoy, and take pride in ownership.

If you're looking for cheap used cars in Louisville KY stop in and see us or call us at 502-290-8890. We'll work with you and present options that can possibly get you into a nice car or truck that's a lot more like the style you would like to have.
I came in wanting a Marlo Carlo and that is what im driving out of with. Great mileage, in very great shape!! i would totally recommend this place. The really care and willing to help you with whatever your looking for.!!!!!
Jalleia Britton
Louisville, kentucky
2005 chevy Monte carlo
I am so pleased with the service I received at Okolona Motors. Everyone was helpful. I have already told three of my friends about this lot. Hopefully. Thank You, Alawi
Alawi Dean
Louisville, KY
2004 Saab
Very pleased with me car buying experience! Great service and a fantastic vehicle well worth buying. I'll be referring all of my friends here.
Heather Bellamey
Georgetown, IN
Okolona Motors made my car buying experience easy. I'm happy to be driving my new car!
Jennifer Watson
Georgetown, IN
2005 Nissan Altima
We ( my husband and I) were so blessed to come into contact with Brandi and the guys at Okolona Motors, Whey worked with us as far as our down payment and helped tremendously with the insurance. The entire grew were very friendly and professional at all times during the purchase process. If any one is a first time buyer or second chance, I recommend you stop buy and say hello to some of the best people you would want to meet. Stop buy at 7519 Preston Hwy and let them take care of you. I promise
Lisa Kelly
Louisville, KY
2004 Dodge Durango
My experience at Okolona Motors has been nothing short of outstanding. The whole staff helped me throughout the whole process. I recommend everyone to shop at Okolona Motors before they purchase their next vehicle.
Joshua Webb
Jeffersonville, 47130
2008 Ford Edge
I love the experence that I have got here. I they didn't just sell me a car they sold them self. I have brought cars from a lot of different car lot, but never from people that made you feel like you was at home. I took there time with me and made sure that the car that I got was the one that I wanted. Brandy is a wonderful person and I would tell everyone to come down here and buy a car. Like I said, I didn't feel like I was at a car lot, but with people that care.
Monica Smith
Louisville, KY
2007 Chevy Trail Blazer
I like my car. It's fantastic! I reccomend Okolona Motors 100%
Willie Gaffney
Louisville, KY
2008 chevy impala
FANTASTIC SERVICE! I walked in un-sure if I was going to be able to get a car or not which was highly needed. After being turned away from numerous people because of my credit I found their service online and stopped in just to browse. I found a car I fell IN LOVE with and they worked with me to make sure I could leave same day with my new car. I would recommended to everyone and anyone looking for a car to check this place out. They have great cars at some of the bet prices and a fantasti
heather Ashby
1208 quest drive #2, Kentucky
2008 Susuki Forenzo
Had a great experience and liked everybody there I dealt with. And recommend everybody to try out Okolona Motors for their next car purchase.
Brandon Hudspeth
Millwood, KY
2003 Dodge Ram 1500
The associates at Okolona Motors are very helpful and polite. The car choices are very broad. If you are looking for used cars in Louisville KY you owe it to yourself to stop by Okolona Motors on Preston Hwy. They were very helpful to me in making my used car purchase when I was there. I recommend them to all of my friends and family. I was recommended to them by my son who purchased his first vehicle ever from them. They were very helpful getting him financed for his first loan.
Shelly Naiser
Louisville, KY
Looked multiple places online, this place is pretty good.
Rebecca Smith
Louisville, ky
2008 Suzuki Forenza
easiest car lot ive ever dealt with gret place and good people
Nick Thornsberry
Mt Washington, KY
2006 Chevy Trail Blazer
i got a car from okolona auto sales. they were really nice people & worked really hard 2 make the deal go through. I GOT MY CAR :) SHOUT OUT 2 Joe
Tonya Humphrey
Louisville, KY
2007 Pontiac G-6
Cheap Cars Inventory Louisville KY